What are the Chances of seeing Mountain Gorillas during Trekking?
Gorilla trekking is such an activity where by the animals are in their natural habitat and you search and see them where they have decided to spend their day. Therefore, before going gorilla trekking an individual may wonder, what are the chances of seeing mountain gorillas during trekking?
Purchase of a mountain gorilla permit guarantees you a 99% chance of seeing the mountain gorillas. Everyday groups of trekkers visit the jungle in search of the mountain gorillas and surely they see them.
Chances of seeing mountain gorillas on a trekking safari are 99% because every day there are park rangers that take care of the gorillas and do conservation. They ensure that they actually know where the gorillas are and therefore you are taken where they are sure the gorillas can be spotted.
Therefore, when planning to go gorilla trekking you can be assured of seeing the mountain gorillas. A purchase of the gorilla trekking permit is all you need.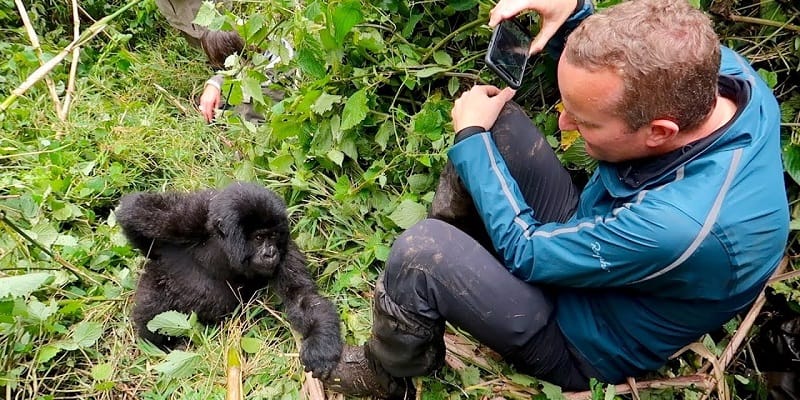 Which country is better for gorilla trekking, Uganda or Rwanda?
For the fact both Uganda gorilla safaris and Rwanda gorilla tours offer lifetime experiences. Since we plan gorilla safaris, we know best and here we do not offer a conclusive view on whether you should take a Uganda gorilla trekking safari or Rwanda gorilla trekking safari. We give you an insight of what it is like to trek gorillas in both countries such that you can choose what is best;
Uganda is home to more than half of the world's remaining mountain gorillas. It hosts the single largest gorilla population without about 19 habituated gorilla families in Bwindi Impenetrable National Park.
The disadvantage with the Uganda gorilla habitats is that they are distant from the national airport and therefore requires a long drive on a safari vehicle to get to the park. It's about 470km to reach Bwindi and this lasts more than 8 hours therefore, you need a whole day to reach the park and another to return.
The Mountain gorilla population of Volcanoes National Park is said to move for shorter distances than those in Bwindi Forest. For intending trekkers who would not wish to trek for long, then Rwanda is that high end option.
Volcanoes National Park is a favorable trekking destination since its just 2 hours from the airport which is not the same with other national parks. This is an advantage to those travelers who want to take a short trip like a 1 day and 2 days gorilla safari.
It's all upon you to choose your gorilla trekking destination whether you choose Uganda or Rwanda. Choose your desired gorilla safari destination and we help you with all the bookings at an affordable cost.
As you plan that incredible gorilla safari to Africa, wondering what are the chances of seeing mountain gorillas during trekking should not be something to worry about. This is because the possibility of seeing mountain gorillas during trekking in Africa is 99% and the activity is safe.